Advertisement
How To Maintain A Professional Relationship In The Workplace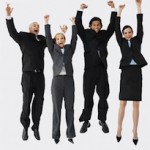 Guest Post by Bella Gray – Whether you own or work at a big or small business, the condition of every professional relationship will determine how functional your corporate environment is and the quality of work output.
The best professional relationship advice available would be useless without the knowledge that all businesses are built on contacts; whether it be within or outside of the workplace. Consistent maintenance of employee relations in the office will dictate the job environment.
How to achieve professional relationships in the workplace
Professional relationship management can be easily achieved when focusing on the following five guidelines:
Make Connections: Knowing that a business is built on relationships will be of no use to you if you're not willing to take some initiative. Corporate studies show that both clients and employers appreciate presentation. The way that you present yourself and/or your business should be immaculate.
Take the Lead: Any dealings in the workplace should be conducted within certain boundaries. Who establishes these boundaries is up to you. Take the lead and establish good communication channels and protocols and you won't be sorry.
Listen: Being able to receive constructive criticism will ultimately determine whether or not your work, your business, and your career thrive. If you're able to listen then you'll be well on your way to establishing excellent professional relationships.
Communicate: Any healthy professional client or work relationship involves communicating. Remember, however, that professional communication requires being respectful and polite no matter the circumstance. Honesty is the best policy, whether you're an employee or an employer. Being open and giving feedback in the workplace is a good form of expressing your criticisms and also a way of praising first-class work practices.
Prioritize: Adhering to deadlines is essential to your job performance. It pays to do your work on time might seem like an obvious point, but a lot of people struggle to apply it in the workplace.
The definition of a professional relationship should be to make connections, take the lead, listen, communicate and prioritize. If one incorporates these elements into their interactions in the workplace, their connections should flourish into mutually beneficial professional relationships.
Is office space really that important?
Lastly, ensure that you have a well-equipped and clean office space. The place where you spend most of your day should be functional and generally comfortable for employee satisfaction and welfare. Healthy business practices and protocol can only be established in a professional environment. This can only be built within an efficient office space. You should know that the dependence of each and every professional relationship rests on this final bit of advice.
Advertisement